Innovation Is The Name Of The Game: Global Live Casino Uses A Platform That Streams Games Direct From A Land-Based Casino!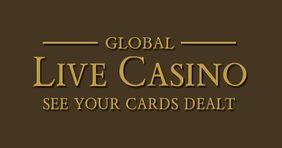 Live dealer casinos online are a fairly new concept where players get the feel of playing at a real casino from their homes. The effects created by the auditory and visual stimuli help simulate a real casino online. Towards achieving this goal, the software used plays a crucial role.
While Playtech launched its live dealer platform in the year 2003, there have been many hiccups in the initial stages, due to the limitations that streaming technology came with.
Today, Global Live Casino Bonus uses the Vuetec platform which is considered to be unique amongst the platforms available. It leaves simulation far behind!
While most of the platform providers stream vision from studios that are created for the specific purpose of simulating a land-based casino environment; the Vuetec 'Distance Gaming' technology streams the vision directly from a real-world casino card game.
A live dealer casino is used for players to view the casino games in action, and the results are most authentic as they are brought live from a real casino, the famous 'Fitzwilliam Card Club and Casino' in Dublin; instead of from a computer.
With Global Live Casino, players no longer just get the feel of a real casino; they get to play at a real casino games.
All the dealers at this live online casino are actual people who are hired by Fitzwilliam Casino and the tables players play on are the same that physically exist in the casino.
The merits of this amazing and highly innovative platform are unbelievable unless one experiences it first-hand.